Six Reasons to run the TTP Cambridge Half Marathon
Iconic University Grounds
Both Kings and Jesus College are on the main route of the TTP Cambridge Half Marathon. Participants run through some of the most iconic and historic locations in Cambridge.
The run through the Kings College gatehouse is often a highlight, the gatehouse, facing Kings Parade welcomes hundreds of thousands of visitors every year. The gatehouse itself was completed in 1828. The foundation stone for Kings College was originally laid in 1441!
Jesus College was founded in 1496 and over the years has gathered both academic and sporting success. The sprawling grounds is an ideal host for the half marathon, the grounds include Cricket, Football and Rugby pitches.
Free Photos
With thanks to our partners, TTP you can pre-register (using your race number) and receive your race day photos from Pic2Go on the day itself. Often an additional cost to any race, you can download and share all your photos and your TTP Cambridge Half experience for free!
Scenic
The route includes a variety of landscapes and views to take in, from the bustling shop lined streets of Cambridge, the River Cam, beautiful university grounds and the winding country roads out towards Grantchester. There is always something to view on route.
View the interactive route map here.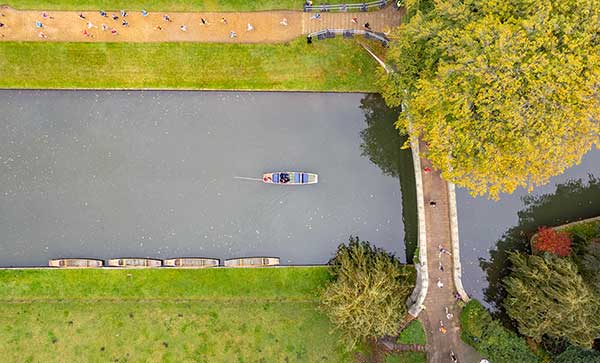 Flat Course
The TTP Cambridge Half Marathon flat course is ideal for everyone! From first timers to the experienced half marathon runners, everyone can benefit. A flat course allows those more experienced to receive a new personal best, whilst it is ideal for those taking on their first half marathon.
Goody Bags
Our goody bags are sustainable and designed to be reused! At OSB Events we are committed to sustainable initiatives, find out how we impact the community here[link]. Our goody bags are filled with items from our incredible partners and items to help refresh, reenergise and celebrate following your post half marathon success!
For a cause!
A half marathon is an incredible opportunity to raise funds for charity and a cause close to your heart! Our local and national charity partners raise thousands of pounds every year. Our headline charity partner this year is Cambridge based, Alzheimer's Research UK. Over the past two years, the TTP Cambridge Half Marathon has raised £144,000 for Alzheimer's Research UK alone. That is enough to cover 7150 hours of pioneering dementia research.